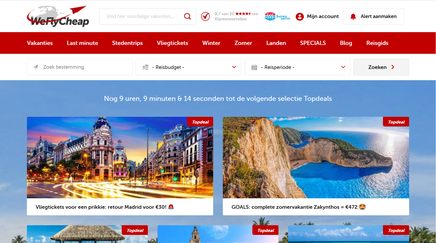 Hi guys!
This week I will spill the beans on my second travel secret: Weflycheap.nl
How does it work?
Weflycheap and Ticketspy are in many ways simulair in that they show you thé best deals.  
The site searches the world wide web for deals at different travel agency and airlines.
Your needs.
The difference with Ticketspy is that at weflycheap  you can put in your exact travel dates, destinations and your travel budget. They then show you the best deals fitting to your specific needs. 
Free tickets to Maldives.
At the moment they have a giveaway of 2 tickets to the Maldives. Check it out and maybe you will get lucky! If you do, I wouldn't mind joining you.. ;)
Want to know more of my travel secrets?
Keep an eye out for my next post and subscribe to my newsletter so you will be the first to know.
Next week a post about Skyscanner.

X
This post was not sponsored in any way