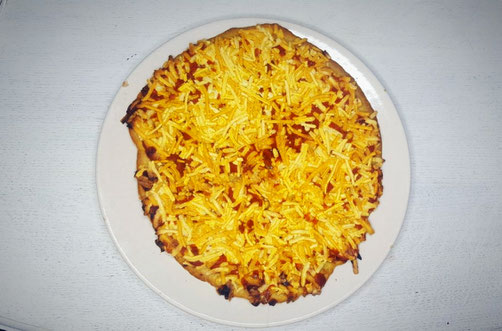 Hellooooo,
Last week I went to the only vegan grocery store in the Netherlands, Veggie 4u.
Since I've never been there before, I didn't know what to expect. It was a cute little shop with a select selection of vegan products. I bought a couple of items, like vegan Cheese, Seaweed crackers with almonds and a dairy free Cheese lover's pizza from the brand Daiya. I've known I am lactose intolerant since I was younger but never did it cross my mind as a hard core cheese fanatic that there would actually be an option to eat a cheese pizza without the stomach pain afterwards!
When I got home I put this pizza in the oven and waited for the cheese to melt...
As you can see below, it does look like a cheese pizza, minus the melted cheese as displayed on the box.
I don't know if it was me, my oven or the pizza but the crust didn't seem to get hard. On the outside yes, but on the inside it stayed pretty doughy. The pizza had a cheese like flavor, but of course it did not taste exactly like cheese. It costed me around 10 euros. This is quite expensive for a home baked pizza.
Conclusion
Would I buy this product again?
Well, lets say I would not specifically go and get the pizza, but if I would happen to be in the store I might buy it again.